WE - Real World Education to Foster Environmental Awareness
7 partners from 6 EU countries (LV, GR, CY, DK, IT, ES) came together to create the WE: Real-World Education to foster environmental awareness project proposal which aims to produce a series of tools to support the introduction of the skills of ESD and Environmental Awareness in Adult Education, contributing to the creation of a learning path for both a) the adult educators and b) adults NEETs and especially those coming from socially or economically vulnerable communities.
The WE project to produce its envisaged results will implement the following categories of activities: a) Project Management and Implementation Activities, b) 7 Multiplier events in each partner country and c) 3 Transnational project meetings and d) Work packages and production activities: During the project's duration, the partners will produce four main work packages/results:
Descriptive Mapping Report on ESD and Environmental Awareness in AE: a report based on participatory research that will include AE learning opportunities, and good practices from the partner countries
Curriculum and training modules: An innovative, inclusive curriculum on ESD and Environmental Awareness, including 10 training modules
Digital Knowledge Hub: a digital learning environment with gamified elements
Gamified Mobile App: a gamified app, on sustainable life choices /green skills.
Download materials below:
Danish:
English:
WE project – Trifold Brochure-ENG
Project manager
Maria Storm-Holm
MSH@vucstor.dk
Follow the process and results of the project on its facebook page. 
Mapping report ENG
Mapping report DK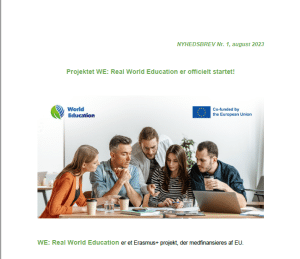 Interested?

Do you think VUC Storstrøm would fit into your project idea? Or maybe you would like to visit our Development Team or Nordic Center for Digital Adult Learning? Send us an e-mail and we'll figure something out!